In vitro Antioxidant and Cytotoxicity Analysis of Leaves of Ficus racemosa
Keywords:
Ficus racemosa, DPPH assay, Dalton Lymphoma Ascites, MTT assay
Abstract
Objectives: The present study assessed the phytochemical components, In vitro antioxidant ability and cytotoxicity of leaf extract of Ficus racemosa. Methods: Preliminary phytochemical analysis in aqueous and ethanol was carried out for the presence of phytochemical components. Of the two extracts used ethanolic extract possessed the highest phytochemical constituents compared to aqueous extract. Hence the antioxidant activity of ethanolic extract of F. racemosa was performed by several antioxidant assays including 1,1-diphenyl-2-picryl-hydrazyl (DPPH) radical scavenging assay, nitric oxide (NO) scavenging assay, reducing power and superoxide radical (SO) scavenging assay. Results: From the results, F. racemosa has been found to have the significant antioxidant activity in a dose-dependent manner and IC50 value was 150 μg/ml for DPPH and 100 μg/ml for both NO and SO scavenging assays. Further, the cytotoxicity analysis was determined against Dalton Lymphoma Ascites (DLA) cell line and the IC50 value was found to be 175 μg/ml for ethanolic leaf extract of F. racemosa. Conclusion: Hence, the current study attests that F. racemosa is enriched in phytochemicals and a fine source of natural antioxidants with anticancer agents and can be used in pharmaceutical preparations for the treatment of diseases induced by oxidative stress.
Downloads
Download data is not yet available.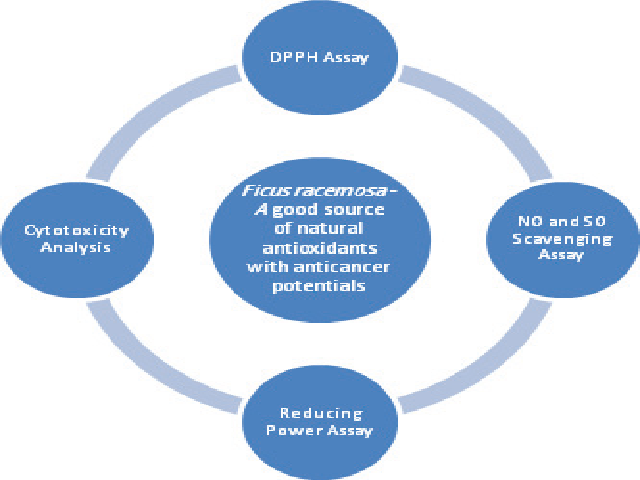 Downloads
CITATION
DOI: 10.5530/fra.2017.1.2
How to Cite
Khan, A. ., Anand, V. ., Badrinarayanan, V. ., Thirunethiran, K. ., & Natarajan, P. . (2016). In vitro Antioxidant and Cytotoxicity Analysis of Leaves of Ficus racemosa. Free Radicals and Antioxidants, 7(1), 8–12. https://doi.org/10.5530/fra.2017.1.2