Antioxidant potential of Thymoquinone against Arsenic Mediated Neurotoxicity
Keywords:
Arsenic, DNA Damage, Neurotoxicity, Oxidative Stress, Thymoquinone
Abstract
Introduction: Arsenic, an established poisonous metalloid has widespread occurrence in the environment which is posing a constant threat to health and survival of all living organisms. In view of arsenic induced oxidative stress and toxicity, this study focuses on the mitigatory role of thymoquinone, a major active component in the volatile oil of Nigella sativa (commonly known as black cumin); as its nutraceutical value can fulfil the demand of such dietary supplements in high risk population areas. Methods: In the current study, brain preparations of male wistar rats were used to assess different biochemical markers of oxidative stress and genotoxicity. Results: Significant and dose-dependent alterations in the level of enzymatic and biochemical biomarkers of oxidative stress were observed in the As-treated system. However, pre-treatment with thymoquinone brought about significant reduction in the As-induced neurotoxicity. Also, a significant decline in arsenic-induced DNA damage was recorded on pre-treatment with thymoquinone in comet assay. Conclusion: This study proves usefulness of antioxidant potential of thymoquione in mitigating the arsenic induced neurotoxicity.
Downloads
Download data is not yet available.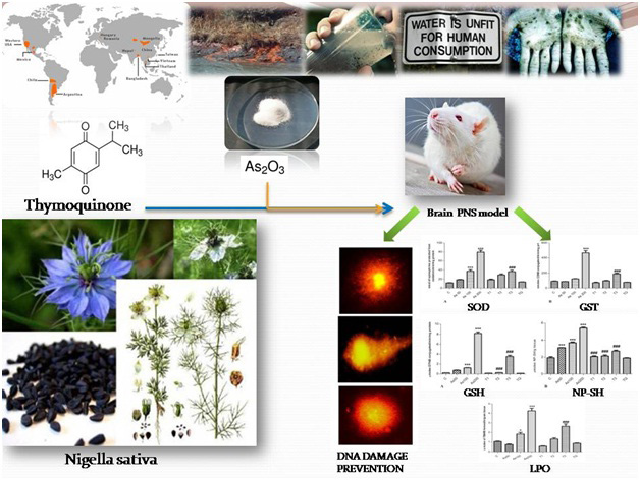 Downloads
CITATION
DOI: 10.5530/fra.2016.1.14
How to Cite
Firdaus, F. ., Faraz Zafeer, M. ., Anis, E. ., Fatima, M. ., Hossain, M. M. ., & Afzal, M. . (2015). Antioxidant potential of Thymoquinone against Arsenic Mediated Neurotoxicity. Free Radicals and Antioxidants, 6(1), 115–123. https://doi.org/10.5530/fra.2016.1.14