Photochemoprotective Effects of Ethyl Acetate Fraction from Senegalia polyphylla Leaves in Ultraviolet-Irradiated L929 Fibroblasts
Keywords:
Antioxidant activity, Free radicals, Oxidative stress, Phytochemicals, UVB
Abstract
Objectives: Unprotected exposure to ultraviolet radiation causes oxidative damages to skin cells. Topical administration of antioxidants is a feasible strategy to prevent oxidative alterations. Therefore, the present study evaluated the photodamage attenuating potential of plant materials from Senegalia polyphylla leaves, due to previous studies relating Senegalia species as a source of antioxidant phenolic compounds. Materials and Methods: The ethanolic extract (EE) and its ethyl acetate (EAF), hydromethanolic and hexane fractions were evaluated for their total phenolic content and antioxidant capacity. The photochemoprotective effects of plant materials with higher antioxidant potential were assessed in L929 fibroblasts against ultraviolet-B (UVB) and Ultraviolet-A (UVA) radiations. Phytochemical investigation of bioactive plant material was performed and compounds identified by nuclear magnetic resonance analysis. Results: The EE and EAF presented the highest total phenolic content and antioxidant capacity, showing ferric reducing power and ability to scavenge free radicals DPPH•, ABTS•+, O2•− and ROO•. The EE and EAF treatments prior to UVB and UVA irradiation prevented the decrease in cell viability, and attenuated reactive oxygen species generation, reduced glutathione depletion, lipid peroxidation and plasma membrane disruption, especially with EAF treatment. Vitexin and isoquercetin, known antioxidant compounds, were isolated from EAF, which may be correlated with its photochemoprotective ability. Conclusion: Findings indicate the potential of polyphenol-enriched botanical materials, such as EAF from S. polyphylla, in preventing UVB and UVA-induced oxidative damages, due to its effective antioxidant activity and ability to attenuate redox imbalance and reduce cell damages.
Downloads
Download data is not yet available.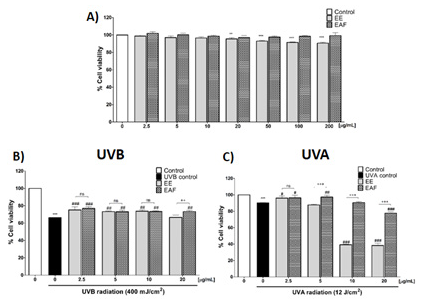 Downloads
CITATION
DOI: 10.5530/fra.2021.1.2
How to Cite
Gomes Daré, R., Oliveira Ferreira, L. dos A., Ribeiro, F. M., Visentainer, J. V., Nakamura, C. V., & Torrado Truiti, M. da C. (2021). Photochemoprotective Effects of Ethyl Acetate Fraction from Senegalia polyphylla Leaves in Ultraviolet-Irradiated L929 Fibroblasts. Free Radicals and Antioxidants, 11(1), 7–12. https://doi.org/10.5530/fra.2021.1.2