A Comparative Study on the Antioxidant Activity of Methanolic Extracts of Terminalia paniculata and Madhuca longifolia
Keywords:
Antioxidant, Free radical, DPPH, ABTS, Nitric oxide radical, Hydroxyl radical, Hydrogen peroxide radical
Abstract
Introduction: Terminalia paniculata and Madhuca longifolia are widely used plants in the folk medicine for different ailments. Many of their traditional uses are based on the antioxidant property. But, till now, the antioxidant property of these plants has not been scientifically proved. Hence, in the present work, a comparative study of the antioxidant property of these plants has been taken up. Materials and Methods: The methanolic extracts of Terminalia paniculata and Madhuca longifolia were evaluated by in vitro methods for the free radical scavenging and antioxidant properties. The models used were ABTS (2,2'-azino-bis(3-ethylbenzothiazoline-6-sulphonic acid), DPPH (2,2-diphenyl-1-picrylhydrazyl), Nitric oxide, hydroxyl radical and hydrogen peroxide scavenging. Butylated hydroxyanisole, butylated hydroxytoluene, and Ascorbic acid were used as the standard antioxidants for comparison. Results: Both the extracts possessed significant antioxidant property. M. longifolia exhibited higher activity in case of DPPH, ABTS, hydrogen peroxide radical scavenging, whereas, T. Paniculata exhibited higher scavenging efficacy in case of nitric oxide and hydroxyl radicals. The antioxidant property of these plants might be due to the phenolic content. Conclusion: The antioxidant potential of these plants suggest their possible use to reduce the oxidative stress and hence, possible use as supplements in diabetes, liver problems, inflammatory conditions or cancer like diseases which are due to increased oxidative stress. Further studies are needed to prove their pharmacological applications.
Downloads
Download data is not yet available.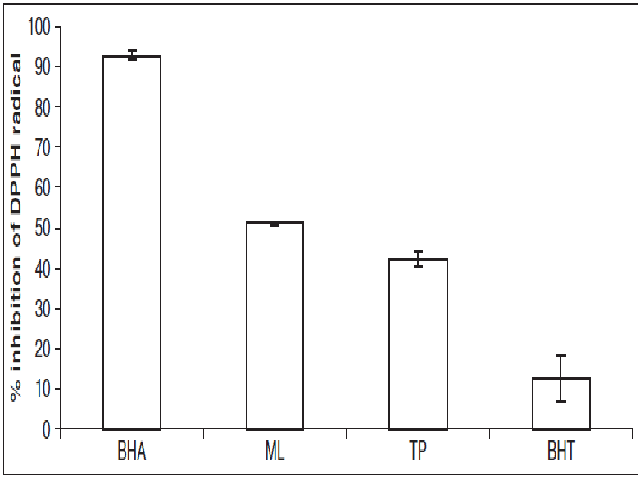 Downloads
CITATION
DOI: 10.5530/ax.2011.4.10
How to Cite
Agrawal, S., & T Kulkarni, G. . (2020). A Comparative Study on the Antioxidant Activity of Methanolic Extracts of Terminalia paniculata and Madhuca longifolia. Free Radicals and Antioxidants, 1(4), 62–68. https://doi.org/10.5530/ax.2011.4.10
Section
Short Communication