Resveratrol Nanoemulsion; A Promising Inhibitor against Mitogen-Activated Protein Kinase - Dependent Inflammation and Ameliorates Nicotine induced-lung Toxicity in Rats
Keywords:
Resveratrol nanoemulsion, Nicotine, Lung, Nanoparticles and p38-MAPK
Abstract
Background: Nicotine, a major component of cigarette smoke, plays an important role in the development of cardiovascular disease and lung cancer in smokers. The aim of the present article was to investigate protective activity of resveratrol nanoemulsion (RENE) against lung toxicity induced by nicotine in adult rats as compared to basic resveratrol. Materials and Methods: RENE was prepared using bovine serum albumin method, then characterized for their particle size and zeta potential. Furthermore, Adult albino rats weighing around 150 ±10 g were used for the evaluation of lung protective activity of RENE (50 mg/k.b.w.) against nicotine-induced lung toxicity in rats. Results: The mean particle size of RENE was 49.5 ± 0.05 nm and zeta potential of +15.75 with the observed shapes of nanoparticle was spherical. The daily oral administration of the RENE at a concentration of 39.75 mg/kg body weight for 30 days to rats treated with nicotine (2.5 mg/kg.b.w.) resulted in a significant improve plasma cholesterol, triglyceride, HDL-cholesterol, LDL-cholesterol as well as serum tumor necrosis factor alpha (TNF-α), interleukin 6 (IL-6) and growth factor (TGF)-β1 in nicotine treated groups rats. On the other hand, oral administration of RENE elevated the activity of superoxide dismutase (SOD), glutathione peroxidase (GPx) and total protein kinase-1 (Akt-1) as well as reduced the level malondialdehyde (MDA) in lung rats treated with nicotine. In addition, RENE reduced the expression of lung inducible nitric oxide synthase (iNOS) and mitogen-activated protein kinase (p38-MAPK) levels as compared to nicotine treated control group. Also, RENE and resveratrol almost normalized these effects in the histoarchitecture of the lung. Conclusion: The obtained biochemical, molecular biology and histological results of our study proved the lung protective activity of RENE against nicotine induced lung toxicity in rats.
Downloads
Download data is not yet available.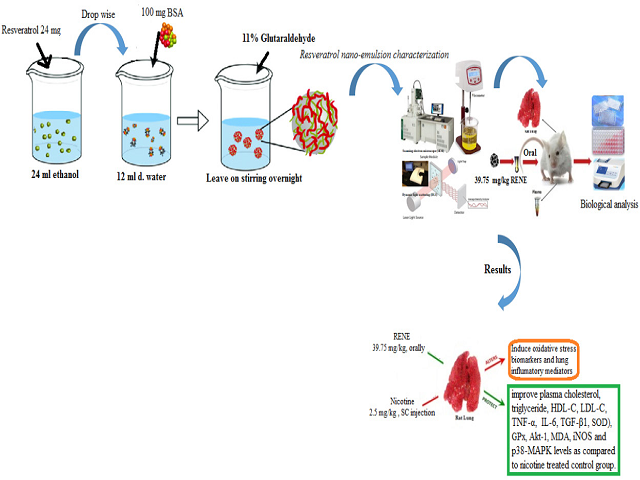 Downloads
CITATION
DOI: 10.5530/fra.2020.1.7
How to Cite
Mohamed, F. T., Abdelghfour, A. Y., Morsy, B. A., Rizk, D. D., Elwany, R. M., Samir, S. A., Ali, A. A., & Hussein, M. A. (2020). Resveratrol Nanoemulsion; A Promising Inhibitor against Mitogen-Activated Protein Kinase - Dependent Inflammation and Ameliorates Nicotine induced-lung Toxicity in Rats. Free Radicals and Antioxidants, 10(1), 35–41. https://doi.org/10.5530/fra.2020.1.7