Influence on the Carotenoid Levels of Skin Arising from Age, Gender, Body Mass Index in Smoking/ Non‑Smoking Individuals
Keywords:
Lifestyle, Lycopene, Resonance Raman spectroscopy
Abstract
Introduction: Intakes of fruit and vegetables rich in carotenoids are associated with a lower risk for a variety of chronic diseases. Therefore, the carotenoid levels in the skin have been measured in various studies to investigate the effects of nutrition and lifestyle. However, statistically clear data regarding the influence of age, gender, body mass index, and smoking behaviour were not documented. Methods: Thus, non-invasive resonance Raman measurements were performed on 151 healthy volunteers in Berlin, Germany. Results: The investigations have shown significantly enhanced total carotenoid values in the skin for women and non-smokers; individuals with a BMI lower than 30 also showed a trend to higher values. In the case of lycopene, significantly enhanced values were found in people younger than 40 and nonsmokers. Conclusion: Influences of gender, and smoking or non-smoking must be taken into account when carrying out a study with respect to the carotenoids. Age does not play any role for total carotenoids but for lycopene.
Downloads
Download data is not yet available.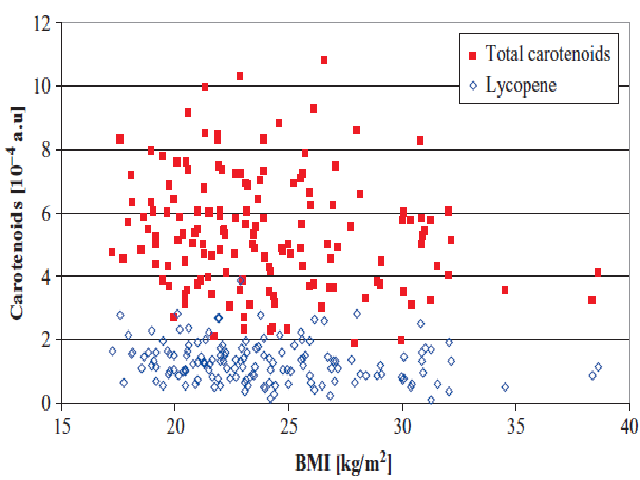 Downloads
How to Cite
Meinke, M. ., Lauer, A. ., Taskoparan, B. ., Gersonde, I. ., Lademann, J. ., & . E. Darvin, M. (2020). Influence on the Carotenoid Levels of Skin Arising from Age, Gender, Body Mass Index in Smoking/ Non‑Smoking Individuals. Free Radicals and Antioxidants, 1(2), 15–20. https://doi.org/10.5530/ax.2011.2.4