P-Coumaric Acid Ester with Potential Antioxidant Activity from the Genus Salvia
Keywords:
p-Coumaric acid ester, NMR, Salvia, Antioxidant activity
Abstract
A phytochemical analysis of the acetone extract of the aerial parts of the plants Salvia splendens and Salvia lanigra yielded a long chain alkyl p-coumaric acid ester; eicosanyl-cis-p-coumarate (1), which has not previously been isolated from Salvia genus, together with two triterpenoids; oleanolic acid (2) and echinocystic acid (3) and two flavonoids; 7-methoxyapigenin (4) and luteolin-7-O-glucoside (5). The structures of these compounds were assigned by spectroscopic analysis and comparison with literature data of known compounds. The antioxidant potential of the p-coumaric acid ester (1) was evaluated, in vitro, by using DPPH for free radical scavenging activity. A moderate free radical scavenging ability was observed.
Downloads
Download data is not yet available.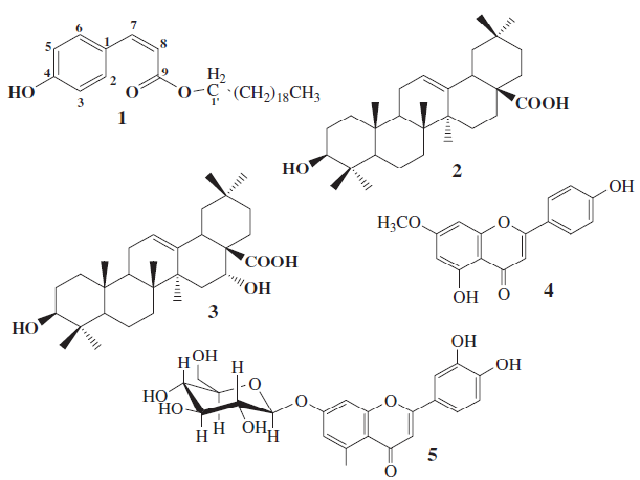 Downloads
How to Cite
Y Shaheen, U. (2020). P-Coumaric Acid Ester with Potential Antioxidant Activity from the Genus Salvia. Free Radicals and Antioxidants, 1(1), 23–27. https://doi.org/10.5530/ax.2011.1.5