Evaluation of comparative antioxidant potential of four cultivars of Hibiscus rosa-sinensis L. by HPLC-DPPH method
Keywords:
Hibiscus rosa-sinensis L., Antioxidant activity, HPLC-DPPH method, Cultivars comparison
Abstract
Introduction: Hibiscus rosa-sinensis L., distributed throughout tropics and subtropics, is useful for various purposes like ornamental, religious and therapeutic. Flowers are believed to possess haematinic and hair growth enhancing properties. At times a single plant may exhibit flowers of two different colours, may be a result of chimiral hybridization. It has dazzling cultivar of forms and colours, however the red coloured flowers are said to be best for medicinal use. The plant is reported to possess antioxidant activity. An attempt has been made to study the comparative antioxidant activity, using HPLC-DPPH method, and total phenolic as well as total flavonoid contents of four cultivars i.e. plants with red, pink, white and yellow coloured flowers of Hibiscus rosa-sinensis. Methods: The methanolic extract of the defatted samples was used for the study. The Total Phenolic content was determined by spectrophotometric method using Folin-Ciocalteu reagent whereas the total flavonoid content was estimated by colorimetric method using aluminium chloride. DPPH free radicals scavenging activity was assessed by HPLC-DPPH method. Results: All the cultivars showed presence of considerable amount of phenolic compounds, flavonoids and significant antioxidant activity. A noteworthy variation in phytochemical concentration was observed. The red cultivar revealed highest antioxidant activity, total phenolic and total flavonoid content. Conclusion: The result of present study indicated the potential of Hibiscus rosa-sinensis flowers as a natural antioxidant. The data revealed significant variations in phytochemical content among its different cultivars and these variations contribute to their studied bioactivity, i.e. in vitro antioxidant activity.
Downloads
Download data is not yet available.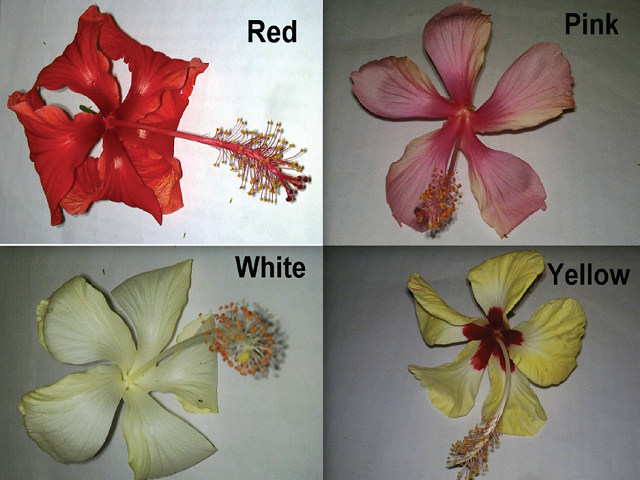 Downloads
CITATION
DOI: 10.5530/ax.2012.4.13
How to Cite
Falguni Sheth, & Subrata De. (2012). Evaluation of comparative antioxidant potential of four cultivars of Hibiscus rosa-sinensis L. by HPLC-DPPH method. Free Radicals and Antioxidants, 2(4), 73–78. https://doi.org/10.5530/ax.2012.4.13